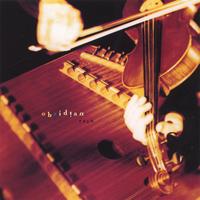 Listen to tunes from Obsidian Rain
Obsidian Rain is not exactly a FiddleSticks recording, but it's a very close relative. Andi Pitcher and Kristin Washburn, friends who toured the world making music, created their own original and evocative arrangements of traditional Celtic tunes and themes on fiddle and hammer ducimer, and were joined on this recording by Geoff Rayback on string bass. Obsidian Rain defies categorization, but haunts the margins of Celtic and New Age and Fusion Folk.
Fans of the Celtic family band FiddleSticks will recognize echoes of Obsidian Rain in FiddleSticks recordings. Andi started recording with FiddleSticks in 1998, and married into the FiddleSticks family in 2001. Andi contributed both tunes and style to the FiddleSticks family. You can hear her dulcimer on several tracks on FiddleSticks' albums "Playing Favorites," "Time and Again," and "Return to Nauvoo." Kristin's fiddle is also featured on the tune "St Basil's Hymn" on the "Return to Nauvoo" album.
Here's the track list (you can listen here):
1. Kingsfold
2. The Dig
3. Drowsey Maggie
4. Those Ubiquitous Rake
5. Breathing Purple
6. Basil's Daughters
7. Cooly's Reel
8. Rain

Click the "Add to Cart" button to order
or Order by Mail