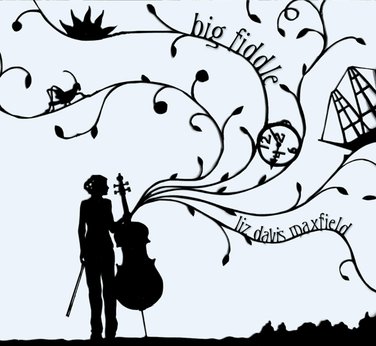 Listen to music from this album
Long ago the cello was called the "Big Fiddle" in Scotland, and was part of the old style Celtic folk sound. With this album Liz, the FiddleSticks Cellist, revives the tradition of the cello as front and center in Celtic folk music. Liz wrote almost all of the music for this album, with a couple of tunes by Katie. The album features the "Big Fiddle" with the rest of us FiddleStickers backing her up - Katie on fiddle, Becca on vocals, and Marco on Irish drum; Plus there are lots of other amazing musicians on the album, providing a rich, progressive range of styles and sound. Liz is fast gaining a reputation as one of the top Celtic Cellists anywhere, and this album proves it.

And you'll want the actual hard copy album, because every copy has a fold out poster featuring the "scherenschnitte" papercut art of Cindy Ferguson, that illustrates each of the songs - the cover's art is just a little hint of what's inside!
Click the "Add to Cart" button to order - $15.00