About FiddleSticks
Kira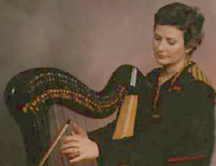 Kira Pratt Davis is the mother of Rebecca, Kathryn, and Elizabeth, and wife of Mark. She was a remarkable folk harpist and singer, as well as friend, wife, mother, and artist.
Kira performed for many years throughout the Washington DC area solo and with various folk bands, including The Hags (a Scottish/Celtic band), Ceoltoire (an Irish/Celtic band), King David's Harp (a Jewish/Klezmer band) and of course FiddleSticks. She was also a professional artist, a prolific writer, and the owner of a small business making custom paper dolls. Kira was set upon by cancer at the age of 30, and bravely, creatively, and artistically battled the disease for ten years before finally "graduating" to the next life in the summer of 1997. The music that is part of the air we breathe in our family is a direct gift from Kira. Her voice and her Celtic harp are greatly missed in the FiddleSticks ensemble, but her life and presence are missed in our family a thousand times more. In continuing our family band, in making our recordings and in sharing our music it is her vision and her momentum that we are following, as best we can. Kira's life was a blessing and a miracle, and an example to us all who knew her.
In February 1997, just weeks before her last illness, Kira went to Washington D.C. to record a last album with Ceoltoiri. The CD, called "Women of Ireland" (produced by Maggie's Music) includes this dedication:
Dedicated to the memory of Kira Pratt Davis (1956-1997) who died shortly after completing this album after a 10-year battle with cancer, and to her daughters Rebecca, Kathryn, and Elizabeth, and husband Mark who carry on her work and ours.