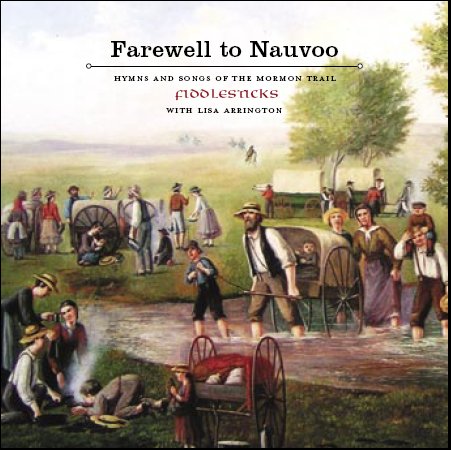 Listen to music from this album
Click here for expanded liner note and lyrics
Click the "Add to Cart" button to order Farewell to Nauvoo by Credit Card ($15.00
FAREWELL TO NAUVOO
Hymns and Songs of the Mormon Pioneers
FiddleSticks with Lisa Arrington
The family band FiddleSticks and Lisa Arrington have combined their talents to present Farewell to Nauvoo, a new collection of hymns and songs from the Mormon Pioneers and from other hymn traditions of nineteenth-century America.
This Farewell to Nauvooalbum is a sequel, in two ways. It is a kind of Volume Two in a Series, following up the FiddleSticks CD from 2004 called Return to Nauvoo. At the same time, many of the arrangements on this album appeared first on Lisa Arrington's 1992 solo recording Hidden Treasures. Lisa and the Davis family have been friends for many years and this long-awaited collaboration has produced some lovely new arrangements of favorite old melodies, fusing Lisa's vocals and imaginative piano arrangements with the eclectic FiddleSticks Celtic style.
Lisa Arrington is a storyteller. By giving these lovely old hymns and songs her colorful and personal perspective, she tells the stories in a way that brings to life the people we remember as the Mormon Pioneers.

FAREWELL TO NAUVOO TUNE LIST
1 Now My Dear Companions
2 O My Father
3 Come Thou Fount of Every Blessing
4 The Handcart Song
5 Paddy Fahy's Jig
6 The Humble Heart
7 Love is Little
8 Lead Kindly Light
9 Hickory Sticks
10 Lonesome Roving Wolves
11 A Poor Wayfaring Man of Grief
12 This Earth Was Once a Garden Place
13 Love is Little Reel
14 The Unknown Grave
15 Farewell to Nauvoo
16 Poor Wayfaring Stranger
17 Margaret Young Boyle Sings the Handcart Song
BONUS TRACKS:
B1 Margaret Boyle's Full Version of the Handcart Song
B2 Lord of the Dance/Gift to be Simple (Lisa with FiddleSticks)
B3 There Is a Land of Pleasure (Lisa Arrington)
B4 The Saviour's Universal Prayer (Lisa Arrington)
B5 FiddleSticks Instrumental: Pickin' the Devil's Eye
B6 FiddleSticks Instrumental: Bonaparte's Retreat
B7 Outtakes (The Steve Lerud Blues)
Listen to music from this album
Click here for expanded liner note and lyrics