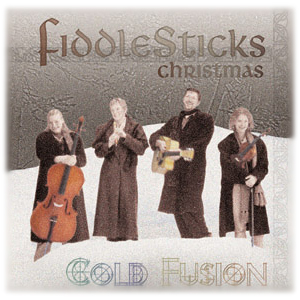 Listen to tunes from the "Cold Fusion."
Cold Fusion is FiddleSticks' celebration of the music that brightens the Christmas season. We hope that our particular "fusion" of various carols, tunes, musical styles and traditions will provide a welcome kind of energy of its own to warm the cold winter season.
Our musical interweavings are of many types on this collection: we have sometimes played contrasting tunes together, sometimes joined like with like; we've taken old carols and merged them with resonant Celtic or traditional American (or newly written) tunes or songs; we've taken new tunes and given them a festive wintery context; and we have given familiar tunes some very unfamiliar twists. We've brought African percussion into some of the tunes and jazz bass into others. And we've included two of our favorite Hanukkah songs in our collection.
Like everything we do, the music on this album evolved as we have performed and played together. Often the tune matches were unplanned or accidental -- two people playing independently and discovering that the tunes "work" together. While other tunes seem to be natural allies, some ideas started almost as "dares" -- "I bet you canıt make that work minor, or in mixolydian!"
The arrangements, as always with FiddleSticks, have been developed by group effort, normally more an improvisation than a formal arranging session -- sometimes even occurring on stage in a moment of irresistible (but potentially startling) creativity. We like to feel that the music is there for us to discover and develop, but itıs not really our invention. May our musical Cold Fusion give you some of the warm holiday cheer we have enjoyed in bringing together this collection. Cold Fusion is the result of many peoples' efforts.
Christ Child Lullaby (Scottish carol); The Black Dress (American traditional).
What Child Is This (English carol); Greensleeves Jig (Scottish traditional); Green Garters (Irish traditional).
Gloucestershire Wassail (English carol); Planxty Fanny Power (Turlough O'Carolan b. 1670); Charming Katy (Scottish traditional).
Bring a Torch, Jeannette, Isabella (French carol); Maggie Brown's Jig (Scottish traditional).
Good King Wenceslas (English carol); Wenceslas Reel (Kathryn Davis).
Baloo Loo Lammy (Scottish carol), The Jolly Clam Diggers (Scottish traditional).
Wexford Carol (Irish Carol).
Our Savior Thee (Tàladh Ar Slanair)(Scottish carol); Christmasse Comes but Once A Year (English/American carol); The Ale Is Dear (Scottish traditional).
Polka Mazurka (Russian-Polish traditional); Ladino Hanuka (Flory Jagoda ©1982); Pitkhu Li (Shlomo Carlebach, b. 1925).
O Hanukkah (Jewish traditional); Freilach No. 5 (Klezmer traditional).
Away in a Manger (American carol); Amazing Grace (American hymn); The Laird o' Cockpen (Scottish traditional).
Auld Lang Syne (Scottish traditional); Eureka Freaka (Kathryn Davis); Mom's Jig (Jerry Holland ©1995-SOCAN).
Misha's Merry Melody (Kathryn Davis);Joy to the World (English carol).
Drummer Boys (FiddleSticks).